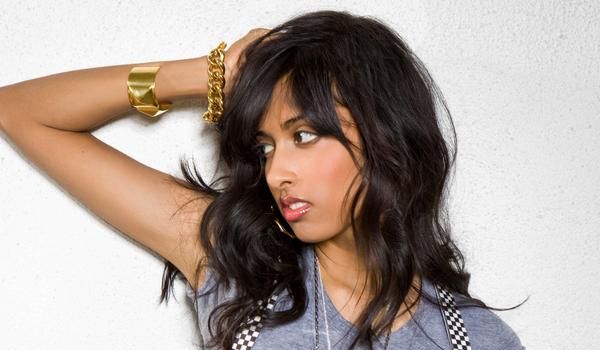 Obsessed with music as a child, Anjulie has been singing and writing songs since she was a teen, and the years she spent honing her craft are readily apparent on her forthcoming self-titled debut album. Co-written with her producer and collaborator Jon Levine (of Canadian R&B hit makers the Philosopher Kings), Anjulie sets intensely personal stories about her life, loves, obsessions, and heartbreaks to a glittering genre-blending mix of pop, hip-hop, rock, and world rhythms she heard as a child growing up. The youngest of four children, Anjulie grew up in the Toronto suburb of Oaksville, Ontario, raised by immigrant parents from Guyana – a South American nation culturally influenced by its Caribbean neighbors to the north. As a result, her household was filled with everything from Afro-Caribbean calypso, reggae, and South American Latin music, to the pop and rock emanating from her older siblings' radios. The mélange has definitely influenced Anjulie's debut – a sophisticated blend of indelible pop smarts, hip-hop edginess, and world-music spice, topped by Anjulie's sultry vocal stylings that she created with her producers and songwriting collaborators Colin Wolfe, who has worked with Dr. Dre and Monica, and her longtime collaborator Jon Levine.
Anjulie is one of five artists featured this summer as part of mtvU's "Freshman 5" which showcases the top five emerging artists poised to jump from college favorites to household names. The program features Anjulie on multiple MTV platforms through the summer, leading up to her self-titled debut on Hear Music. The music video for her song "Boom" – which was recently #1 on the Billboard dance chart — was directed by Adria Petty (Kings of Leon, Duffy, and Regina Spektor).
The confident and eclectic mix of songs on Anjulie's debut explore a wide range of moods, a sign that she is an artist with a lot of range and versatility. The slinky opening track "Boom," works a dark, Nancy Sinatra-esque '60s vibe, while "The Rain" is a sleek, flamenco-flavored urban gem. Anjulie gets steamy on the feverish "The Heat," the obsessive "Addicted2Me," and the provocative "Some Dumb Girl," before entirely switching gears on the uplifting acoustic-driven "Same Damn Thing" and the lovelorn piano ballad "Crazy That Way." It's not surprising that Anjulie's debut is as eclectic as it is, as the singer cops to a host of musical influences, everyone from confessional singer-songwriter Alanis Morissette and the always-enigmatic Annie Lennox, to hip-hop mavericks Kanye West and Lauryn Hill.
Anjulie
Anjulie
Released: Aug 4, 2009
Released By Hear Music
TRACK LISTING
Boom
The Rain
Some Dumb Girl
Addicted2Me
Crazy That Way Intro
Crazy That Way
Fatal Attraction
The Heat
Columbia
Same Damn Thing
I Want The World To Know
Love Songs
Day Will Soon Come
VIDEOS
LINKS
Official Site | MySpace | Facebook | Ning | Twitter | imeem | Last.FM