We're not against the police. We're not against the police department, but we are against police who commit misconduct (and those who help cover it up).
It's often said that perception is reality and in politics those are words to live by.
Which brings me to this late Friday post.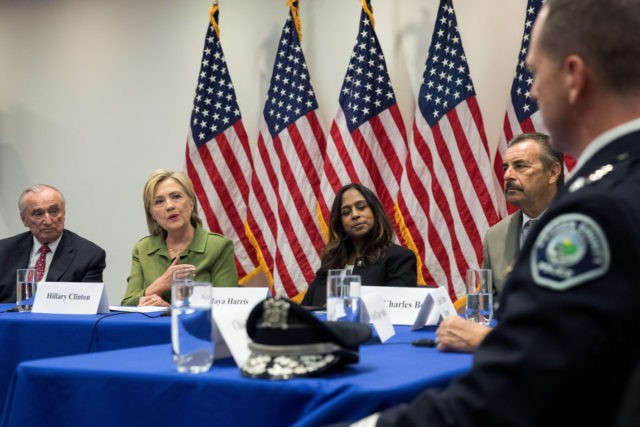 I'm curious to know why Angelenos would be asked to foot the bill for a trip to New York for Los Angeles Police Chief Charlie Beck to meet with presidential candidate Hillary Clinton?
Hillary Clinton Meets Privately w/ #LAPD Chief and others as Trump Law and Order Message Resonates https://t.co/kHKqLfTLMb

— Jasmyne Cannick (@Jasmyne) August 19, 2016
As someone who is voting for Secretary Clinton in November, I couldn't care less if Beck wants to meet with her. In fact, his meeting with Clinton could (but probably won't) be seen as a good thing with his Democratic foes camped out in front of City Hall calling for his immediate firing. All I want to know is why would taxpayers be
asked to cover the cost for his travel and lodging
? Seems like a fair enough question.
Even if the meeting is completely legal according to the rules of engagement, the optics on it are not in his favor. That alone is reason enough for Beck to forgo reimbursement for the trip.
And before someone sends me an email–please know that I know that these are not spontaneous meetings. There's nothing spontaneous about Hillary Clinton's campaign for the presidency.  Everything is planned and down to the last detail. He knew before he left he was going to be meeting with the Clinton. The question is did Beck misrepresent the purpose of his trip to New York?
I would ask for the City's Ethics Commission for their opinion but they seem to be more focused on doing the Department's bidding these days and going after sergeants who do the right thing while ignoring a Chief who got caught lying about the purchase of that horse named George.
Maybe someone else from the fourth or fifth estates will look into it. 🐸☕️
As for us everyday common folk, check the agenda of Tuesday's upcoming meeting of the Board of Police Commission.  It's item 1A under Consent Agenda Items.
In other news, the New York Daily News published a sad story with a video showing how LAPD officers stood around laughing while a man lay on the floor dying in jail.
According to the Daily News, L.A. paid the family of 56-year-old grandfather Vachel Howard a $2.85 million settlement after they filed suit over his June 2012 death at the LAPD's 77th Street Station Jail.
Here's the video:
The officer believed to have used the chokehold received a 22-day suspension.
Read the entire story here.