On this World AIDS Day, I am pleased to join other activists in celebrating the accomplishments of one of our own, Sylvester James, in an effort to acknowledge the courage he demonstrated as a person living with AIDS who never compromised himself or what he believed in.

Who Is Sylvester James?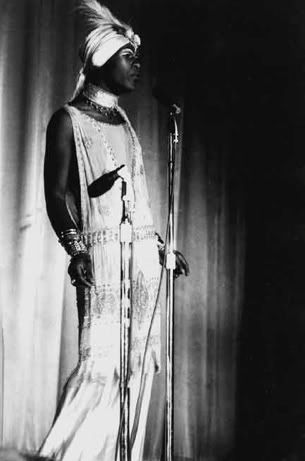 Know as the "Queen of Disco," Sylvester James was a recording artist and drag performer who often collaborated with Patrick Cowley.
Sylvester was born in Los Angeles, California into a middle-class family, and was raised by his mother and stepfather, Letha and Robert Hurd. Many of the facts of his early life are uncertain, and birth dates from 1944 to 1948 have surfaced. One thing is certain though, Sylvester was a child gospel star.
Encouraged to sing by his grandmother, the 1920s and 1930s jazz singer Julia Morgan, James talent first surfaced at the Palm Lane Church of God in Christ in South Los Angeles, and soon he was making the rounds and stirring up audiences at churches around Southern California and beyond, sometimes billed as the "child wonder of gospel."
Sylvester's home life disintegrated when he was a teenager. He clashed with his mother and stepfather, finally running away from home at age 16. For several years he lived on and around the streets of Los Angeles, but managed to finish high school and enroll at Leimert Beauty College. James found his spiritual home when he moved to San Francisco in 1967.
In San Francisco, Sylvester performed in a musical production called "Women of the Blues," then joined a short-lived group of drag performance artists called The Cockettes in the early 1970s, his repertoire of Bessie Smith songs in tow. After leaving The Cockettes, Sylvester performed in San Francisco a number of different times as a solo act. One of his most famed shows, entitled "Jungle Sin" which reprised Sylvester's greatest Cockette solo songs, took place at the San Francisco supper club Bimbo's and was produced by the rock impresario David Ferguson in 1972. That same year, Sylvester performed at The Temple in San Francisco with the then-unknown Pointer Sisters which was also produced by Ferguson. Sylvester can be seen in the Cockettes' outrageous short film "Tricia's Wedding," lampooning the wedding of President Nixon's daughter Tricia, and in an eponymous 2002 documentary about the group (which at one time included Divine).
In 1972, Sylvester supplied two cuts to Lights Out San Francisco, an album compiled by the KSAN radio station and released on the Blue Thumb label. In 1973, Sylvester & his Hot Band released two rock-oriented albums on Blue Thumb (their self-titled debut was also known as "Scratch My Flower," due to a gardenia-shaped scratch-and-sniff sticker adhered to the cover). In 1974, Sylvester met Horus Jack Tolsen (Keyboards) together with Sylvester's drummer Amadeo Barrios (drums) and Brother Adrian Barrios (Bass) formed a trio which backed up Sylvester at a nightclub in San Francisco called Cabaret – After Dark. Shortly after Horus was fired, Amadeo brought in new players, Archie White (Keyboards), Angel Reyes (Guitar), Background vocalist Bianca Thorton, Gerry Kirby and another vocalist named Debbie. This took Sylvester into a new musical direction. The band unofficially called themselves The Four A's and had finally thrown in the towel after several attempts to get signed by a major label. In 1975 The Brother's Barrios gave it one last shot before joining The Lenny Willians Band.
Sylvester signed a solo deal to Fantasy Records in 1977, working with the production talents of legendary Motown producer Harvey Fuqua, who produced his album Stars in 1979. Sylvester later alleged that Fuqua cheated him out of millions of dollars. Sylvester soon met his frequent collaborator Patrick Cowley. Cowley's synthesizer and Sylvester's voice proved to be a magical combination, and pushed Sylvester's sound in an increasingly dance-oriented direction; his second solo album, Step II (1978), unleashed two disco classics: "You Make Me Feel (Mighty Real)," and "Dance (Disco Heat)". These two songs charted together on the American dance chart and spent six weeks at #1 on this chart in August and September of 1978. By this time both his live shows and recordings also recognizably featured the back-up vocals of Two Tons O' Fun: future Weather Girls Martha Wash and Izora Rhodes. 1979 brought three Billboard awards and an appearance in the movie, The Rose, starring Bette Midler.
Moving to Megatone Records in 1982, Sylvester quickly landed a Hi-NRG classic with "Do You Wanna Funk", which was featured in the 1983 film Trading Places. He was close friends with other Megatone artists Linda Imperial and Jeanie Tracy. Sylvester was also very close to Patti LaBelle.
Later pressure from the label to "butch up" his image would result in him attending meetings in full-on drag. A drag photo shoot, which he staged and presented to label heads as a gag (calling it his "new album cover") would later grace the cover of Immortal after Sylvester died; it was the label's way of paying tribute to his spirit. In 1985, one of his dreams came true as he was summoned to sing back-up for Aretha Franklin on her Who's Zoomin' Who? comeback album. His sole Warner Bros. Records album was Mutual Attraction in 1986; a single from the album, "Someone Like You", became Sylvester's second #1 hit on the US dance chart and featured original cover art by Keith Haring.
Sylvester died of complications from AIDS in San Francisco on December 16, 1988. He was only 40 years old. His good friend Jeanie Tracy took care of Sylvester during his last days.
On September 20, 2004 Sylvester's anthem record, You Make Me Feel (Mighty Real), was inducted into the Dance Music Hall of Fame. A year later, on September 19, 2005, Sylvester himself was inducted into the Dance Music Hall of Fame for his achievement as an artist.
VIDEO
"You Make Me Feel" (Live)
"Grateful"
Discography
Albums
1973: Sylvester & the Hot Band (performed by Sylvester & the Hot band)
1973: Bazaar (performed by Sylvester & the Hot band)
1977: Sylvester
1978: Step II (U.S. top-200 #28, Italy top-50 #6)
1979: Stars (U.S. top-200 #63, Italy top-5 #15)
1979: Living Proof (double LP, recorded live) (U.S. top-200 #123)
1980: Sell My Soul (U.S. top-200 #147)
1981: Too Hot To Sleep (U.S. top-200 #156)
1982: All I Need (U.S. top-200 #168, Italy top-50 #23)
1983: Call Me
1984: M-1015
1985: 12 By 12
1986: Mutual Attraction (U.S. top-200 #164)
1989: Immortal
Main singles
1973: "Southern Man" (performed by Sylvester & the Hot Band; Blue Thumb)
1973: "Down On Your Knees" (performed by Sylvester & the Hot Band; Blue Thumb3)
1977: "Down, Down, Down"
1977: "Over And Over"
1978: "Dance (Disco Heat)" (UK #29, U.S. #19, U.S. Dance #1)
1978: "You Make Me Feel (Mighty Real)" (UK #8, U.S. #36, U.S. Dance #1, Italy #24)
1979: "I (Who Have Nothing)" (U.S. #40 UK #46)
1979: "Stars" (UK #47)
1979: "Can't Stop Dancing"
1980: "You Are My Friend"
1980: "I Need You"
1980: "Sell My Soul"
1981: "Here Is My Love"
1981: "Give It Up (Don't Make Me Wait)"
1981: "Magic Number" (performed by Herbie Hancock featuring Sylvester)
1982: "Do You Wanna Funk" (Patrick Cowley and Sylvester) (UK #32)
1982: "Don't Stop"
1982: "Tell Me"
1982: "Be With You"
1982: "All I Need"
1983: "Don't Stop"
1983: "Tell Me"
1983: "Hard Up"
1983: "Band Of Gold" (UK #67)
1983: "Too Late"
1983: "One Night Only"
1983: "Trouble In Paradise"
1984: "Stargazing" (performed by Earlene Bentley featuring Sylvester; UK release)
1984: "Good Feeling" (German release)
1984: "Call Me"
1984: "Menergy"
1984: "Rock The Box"
1985: "Take Me To Heaven"
1985: "Sex"
1985: "Takin Love Into My Own hand" (Mexico release)
1985 "Lovin Is Really My Game"
1986: "Living For The City"
1986: "Someone Like You" (U.S. Dance #1)
1987: "Mutual Attraction"
1987: "Sooner Or Later"
Additional recordings
1972: Lights Out San Francisco
Sylvester supplies two tracks on this album compiled by the KSAN radio station
MORE ON SYLVESTER
Official Sylvester Website (endorsed by the the artist's Estate)
Sylvester: A Revolution…Recorded, Televised, and Never Compromised!
By Kevin E. Taylor
H/t: Craig Washington